COLUMBIA, S.C. (September 27, 2016) — South Carolina REALTORS® (SCR) named Greenville REALTOR® and Executive Vice President of The Marchant Company, Gordon Seay, as its 2016 REALTOR® of the Year during the association's annual conference Doing the Charleston at the Francis Marion Hotel in Charleston September 14, 2016.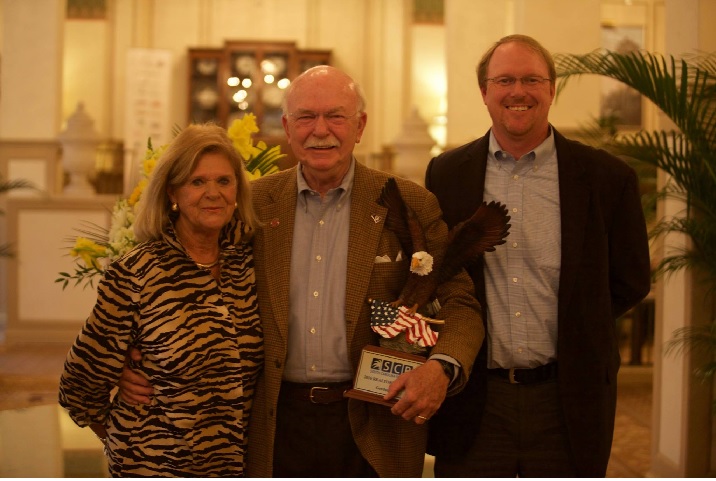 The REALTOR® of the Year award is designed to honor a Realtor® member who has contributed most to the advancement of the real estate profession and community within the past year. In order to receive the award, the nominee must be active in their local, state and national associations of REALTORS®, as well as their community. It is SCR's most esteemed award.
Gordon Seay has been in real estate for more than 22 years. He is a National Association of REALTORS® region 4 vice president, past president of SCR and past president of the Greenville Association of REALTORS®. In his community he was instrumental in the revitalization of downtown Greenville. At SCR he has also served as a REALTOR® Political Action Committee chair, legislative group member and has served on the executive committee.
Seay is active in his community as a board member at Furman University, past president of the Paladin Club and president of the Greenville Track Club.
In this touching video tribute played at the conference Gordon was described by his colleagues as a hard-working, humble, professional who never says no when asked to lend a hand.
"Gordon exemplifies what it means to have Realtor® spirit through his selflessness and eagerness to better the real estate industry and all of those around him," said SCR 2016 President David Kent.
South Carolina REALTORS® (SCR), the largest professional trade association in the state, serves as the voice of real estate for more than 19,000 members involved in all aspects of the residential and commercial real estate industries. REALTOR® is a registered trademark that identifies a professional in real estate who subscribes to a strict code of ethics as a member of SCR and the National Association of REALTORS®.
CONTACT: Sharon Delia (803) 772-5206