COLUMBIA, S.C. (September, 2016) – (RealEstateRama) — South Carolina REALTORS® (SCR) today released its August housing market data indicating that demand is present and creating competitive situations regarding pricing, while inventory continues to drop.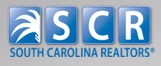 New listings were up ten percent to 10,064. Pending sales decreased almost two percent to 6,678. Inventory shrank by almost six percent compared to last year and is down to 36,099 units.
Prices moved higher and median sales price was up almost six percent to $184,789. Homes are selling quickly with most on the market for only 91 days. Month's supply of inventory was down almost ten percent to six months, indicating that demand increased relative to supply.
"Although inventory is slim, a REALTOR® can help you find the perfect home while navigating the buying and selling terrain," said SCR CEO Nick Kremydas.
###
South Carolina REALTORS® (SCR), the largest professional trade association in the state, serves as the voice of real estate for more than 19,000 members involved in all aspects of the residential and commercial real estate industries. REALTOR® is a registered trademark that identifies a professional in real estate who subscribes to a strict code of ethics as a member of SCR and the National Association of REALTORS®
CONTACT: Sharon Delia (803) 772-5206