Santa Ana, Calif., January 4, 2008 – Chief Investment Officer Jeff Hanson announced today that Triple Net Properties LLC has sold Caledon Wood Apartments on behalf of tenant-in-common investors. The disposition closed on December 27, 2007.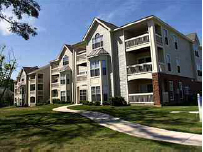 Caledon Wood is a 350-unit apartment community in Greenville, South Carolina. Situated on more than 24 landscaped acres, the approximately 348,000-square-foot property includes 15 two-story residential buildings, with two additional buildings that house the community's clubhouse and fitness facility. Caledon Wood provides a spacious average unit size of 995 square feet and offers many features, including walk-in closets, washer/dryer connections, central heat and air conditioning, private patios or balconies, outdoor grills, tennis courts and two resort-style swimming pools. Completed in 1996, the property offers convenient access to Interstates 85 and 385 and is just five miles from Greenville's central business district. Caledon Wood provides ample parking with a parking ratio of 2.0 spaces per unit. The property is currently 93 percent occupied Caledon Wood, originally purchased in January 2006, was sold to Steven D. Bell & Company. Pender Murphy of Apartment Realty Advisors was the broker in the transaction.
Triple Net Properties LLC is a wholly owned indirect subsidiary of Grubb & Ellis Company, a leading real estate services and investment management firm. Triple Net Properties and affiliates manage a growing portfolio of nearly 39 million square feet of real estate, including more than 10,000 apartment units, with a combined market value in excess of $5.4 billion. Triple Net Properties and affiliates are currently buying and selling properties throughout the United States, offering a full range of commercial real estate investments, including tenant-in-common (TIC) programs for investors structuring tax-deferred (like-kind) exchanges under Section 1031 of the Internal Revenue Code, real estate investment trusts (REITs) and institutional investments.